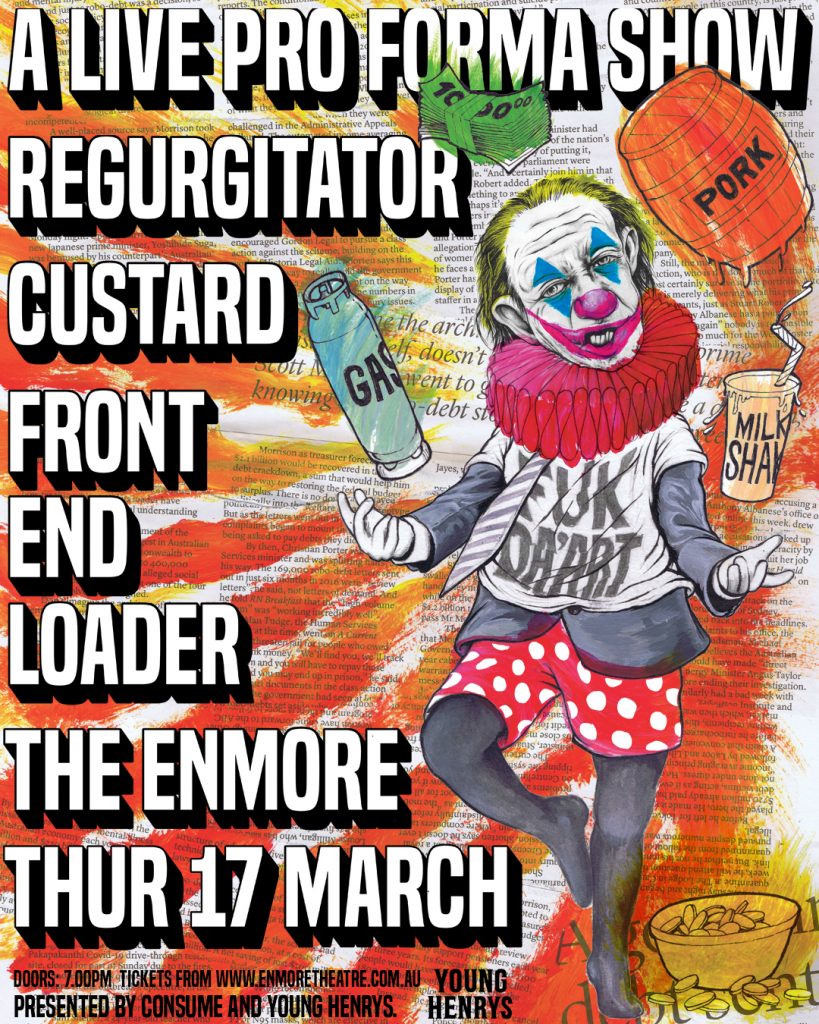 And yet again we interrupt with a viral disruption:
Here we go again… live performance caught in a double bind juggling dates and containment measures we now have to shelve the live pro forma set once again. Unfortunately this time we roll the show over into the new year – THUR 17 MARCH to be exact. We understand the frustration this may cause but ask in return for your ongoing support in our having to take this action. Again… this comes with apologies for any continued inconvenience and trust us in saying that we are also dealing with skittles our end. Tickets will still be valid for the 2022 date or if need be and refunds are necessary please contact via boxoffice@century.com.au. The show will eventually make it to a stage for you. In the meantime please stay well on it!
We interrupt this show for an urgent message:
LIVE PRO FORMA SHOW postpones until OCT.
And I suppose this comes as no surprise given all… but as the lead balloon of reality crashes the gold standard juggling act we are now forced to delay the LIFE PRO FORMA show with good friends Custard and Front End Loader back to a later date in the year sorry to say. Anyway to make sure we can actually all play to a crowd present and accounted for we are now shifting the August reschedule to an October reschedule. Hopefully the last time… and in the process if you need to seek refunds please see this official venue blurb below. Otherwise we will get there… eventually!
A Live Pro Forma Show at the Enmore Theatre has been rescheduled.
Previous Dates: Friday 9 June 2021 / Thursday 26 August 2021 / Sunday 24 October / Sunday 20 February NEW DATE: THURSDAY 17 MARCH 2022
Current tickets are valid for the new event date.
You do not need to contact the Enmore Theatre or Century regarding this.
If you can no longer attend due to the date change, please contact your point of purchase for a refund.
To find out more about our venue's Precautionary Measures please visit:bit.ly/Century-Covid19
If you are considering purchasing tickets to an event in the future and are concerned, we have a policy to protect ticket purchasers. To find out more about our ticket purchase guarantee please visit: bit.ly/Century-CovidGuarantee
Thank you for your understanding.
Lay your hands on this… A LIVE PRO FORMA SHOW
In a void came the rumble, a growling onset of marching feet as an audience swelled like the surging sea level rise, clambering for that forgotten stage of phantoms as a matter of just form. The clowns of power may juggle their softening brains reaching for the SLAPP but the trained humans dance to the common tune of a free and caring menagerie. Let them feast on the positional goods of modern entertainment.
As a limited offer comes this one off opportunity for non-functional tokens – everyone should make fun out of steam and unleash the power of the live pro forma. Riddled with a bout of truth decay and candy coated corruption what better to challenge the coordinated inauthentic behaviour so apparent in our conflict of a society than serving up the domestic products of a bygone era:
From the suns of our reaches REGURGITATOR…
From the gelatine of good times CUSTARD…
From the school of hard rocks FRONT END LOADER…
Juggle me this fatman…
A LIVE PRO FORMA SHOW
THE ENMORE sydney
THURS 17 MARCH 2022 – new date – tickets still valid.
REGURGITATOR
CUSTARD
FRONT END LOADER
Doors: 6.30pm
Tickets from https://www.enmoretheatre.com.au/
https://premier.ticketek.com.au/shows/show.aspx?sh=REGURGIT21
Presented by consume and Young Henrys.
Supported by Live Music Australia
"Hoard food and it rots. Hoard money and you rot. Hoard power and the government rots." (Chuck Palahniuk)
All the online filler you can get your hands on:
www.regurgitator.net
http://regurgitator.bandcamp.com/
www.facebook.com/regurgitators
https://www.custardband.com/
https://www.facebook.com/CUSTAR0/
https://www.facebook.com/FrontEndLoader