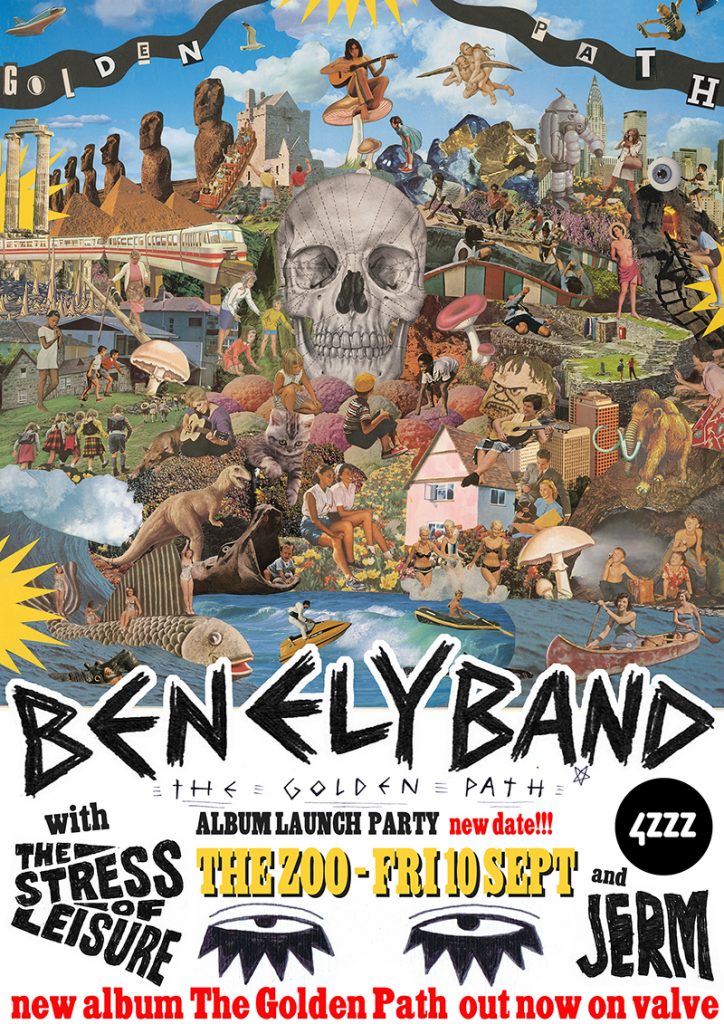 BEN ELY's third full length solo album burns light through gloom in taking flight to THE GOLDEN PATH.
4ZZZ and Valve presents
BEN ELY BAND
The Golden Path album launch
with THE STRESS OF LEISURE
and JERM
FRIDAY 10th SEPTEMBER
THE ZOO Brisbane
Tickets from the zoo.oztix.com.au
https://zoo.oztix.com.au
Following the debut performance of the new band with Millsey, Jim and Steph last Sunday at the Powerhouse comes the next stepping stone on the golden path… with the glowing involvement of the exemplary faux-ists THE STRESS OF LEISURE and Steph's industry that is JERM featuring non other than keyboard luminary Shane Rudken.
Naturally expanding his past solitary engagements towards the full exhilaration a band with all the expansiveness that affords shines bright in this latest collection of Ben infused tunes. The creativity runs deep and free in this one.
"During 2020 not only did I, like the majority of musicians, lose a large percentage of my gigs but the tool shed in my garden was destroyed by white ants. The little buggers had a feast on the timber hiding behind the 20 feet high bamboo plant. I have a friend Millsey who is the set builder at La Boite theatre. He had lost all his work also and offered to help me build a structure, a little music studio in my garden to replace my destroyed one. He and his friend Jamie built me a magical little space. I then proceeded to write and record in there everyday as there wasn't much else on… eventually offering up a new solo album. I went a bit crazy layering heaps of instruments intending never to play it live as well there were no gigs were happening. It was originally intended to be a dark solo venture, though working with dark subject matter was getting me down. I decided to cheer myself up with a brighter outlook… and walk the golden path instead.
Fast forward to 2021. I was offered a show with a full band. So I got my friend Millsy who built my studio, who happens to be also be a really great drummer to play drums.
And here we are with the final result. The Golden Path."
BEN ELY
The Golden Path
V163 out now on Valve thru MGM.
featuring The Golden Path, Tale of the Cyclops, Love, Breathe in the Sunshine and more
VINYL in recycled technicolour available here: https://www.valverecords.com.au/shop/
A special release GOLD LEAF vinyl version will be available at the album launch merch stand
BANDCAMP take a hike to – https://consumevalve.bandcamp.com/album/the-golden-path
And shedding light on the DIGITAL paths:
https://ffm.to/thegoldenpath