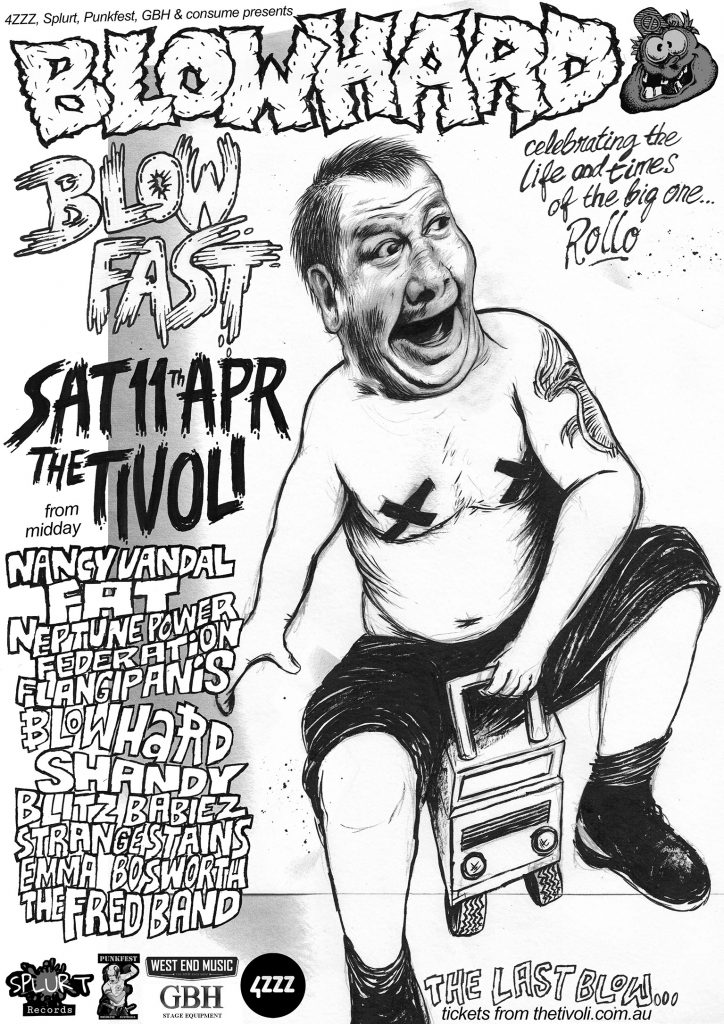 BLOWHARD AND FRIENDS GATHER FOR FINAL ROLLO TRIBUTE
The last blow… in what will be the final live experience of BLOWHARD full stop!
Easter 2020 marks a year since the tragic, untimely passing of Rollo, Blowhard's founder and vocalist. Blowhard and top-flight Brisbane and Sydney alternative acts will assemble on Easter Saturday 11 April at The Tivoli to honour the Great Man's legacy.That Rollo led Blowhard for 30 years is a momentous achievement, given his and the band's collective history in other punk/alternative outfits. Blowhard was also the third ever Brisbane punk band (after The Saints and The Onyas) to tour overseas.
Additionally, Rollo's activities as a concert promoter cement his legacy across the Brisbane music scene and beyond. The likes of Custard, Powderfinger and members of Regurgitator all played early shows at Rollo-driven events, as did many an up-and-coming interstate band. During his guest-spot with the remaining Blowhard members at 2019's Dead of Winter Festival, Frenzal Rhomb's Jay Whalley fittingly paid tribute to Rollo's early help in establishing Frenzal's profile.
BLOWHARD will come together for one final tribute to Rollo on Saturday April 11 at The Tivoli, with a mighty selection from special friends – a who's-who of homegrown alternative music: Emma Bosworth, Strange Stains, Fred Band, Flangipanis, Shandy, Blitz Babiez, Neptune Power Federation, FAT and Nancy Vandal. Commencing at midday – a full plate of 10 performances celebrating the life and times of the big one: ROLLO.
Blowhard… blow fast!
4ZZZ, Splurt, Punkfest, GBH & consume presents
BLOWHARD & FRIENDS
celebrating the life and times of ROLLO
THE TIVOLI
SAT 11 APRIL 2020
Doors at midday
Tickets from https://thetivoli.com.au
NANCY VANDAL 11 TILL MIDNIGHT
FAT 10.00 – 10.40
NEPTUNE POWER FEDERATION 9.00 9.40
FLANGIPANIS 8.00 -8.45
BLOWHARD 6.10 – 7.30
SHANDY 5.00 – 5.40
BLITZ BABIEZ 4.00 – 4.40
STRANGE STAINS 3.00 – 3.40
EMMA BOSSWORTH 2.00 – 2.40
FRED BAND 1.00 – 1.40
Doors MIDDAY
BLOWHARD DISCOGRAPHY
Lets Blow                              7"EP (vinyl)                     Splurt Records 1990
Hey Taxi/What You Say       7"Single (vinyl)               Splurt Records 1990
Homemade Hell                     7"EP (vinyl)                    Splurt Records 1990
Blowin Off                            Album (cd)                       Splurt/Siren 1993
Snag                                      EP(cd) )                            Splurt/Siren 1993
Blowin Off                            Album (cd)                      Do it Records (Germany) 1994
Blow Torch                           EP (cd) )                           Splurt/Siren 1994
Hornbag                                Album(cd)                        Splurt/Oracle 1996
Hornbag/ Blow Torch           Album(cd) )                    Do it Records (Germany) 1996
Who's the Maggot?               Album(cd)                       Oracle Records 1998
The Toxic Swing                    Album(cd)                      Oracle Records 2000