THE MEANIES TAKE DESPERATE MEASURES, FINALLY!
MELBOURNE PUNK ROCK LEGENDS TOUR THEIR NEW ALBUM A YEAR LATE, WITH NATIONAL 'BETTER LATE THAN NEVER DESPERATE MEASURES TOUR' IN JUNE & JULY
BYRON'S DICKLORD OPEN MOST SHOWS!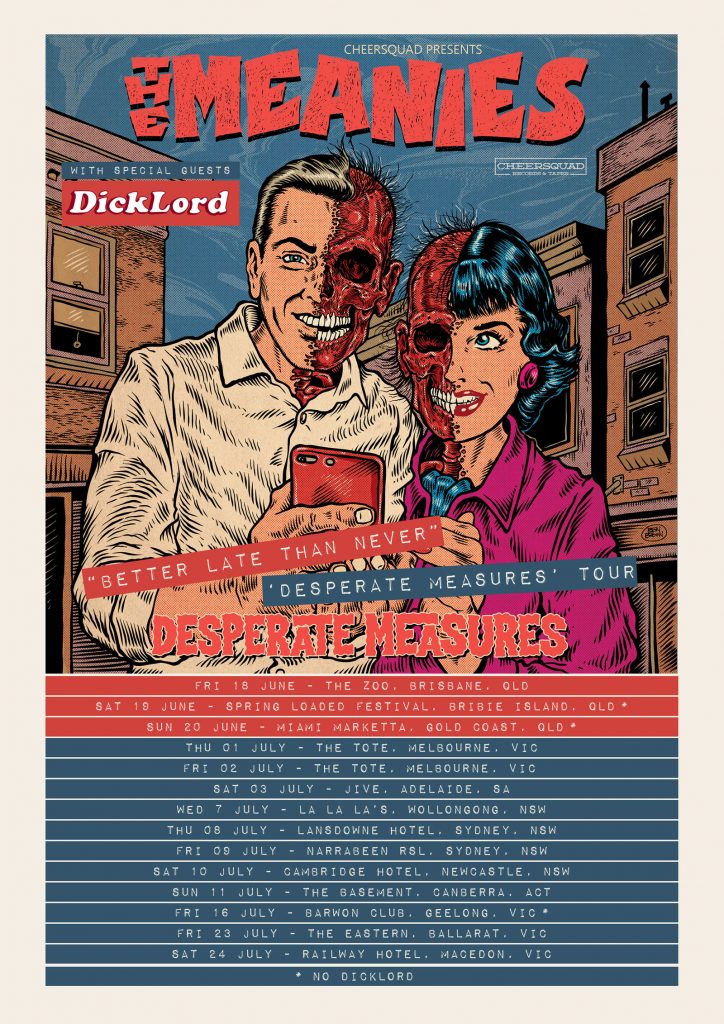 Better late than never – and in the midst of their part in the national SPRINGLOADED tour with a few old buddies –   Australia's punk-rock heavyweights The Meanies announce their 'BETTER LATE THAN NEVER DESPERATE MEASURES TOUR'. The tour is a belated celebration of their 'new' album Desperate Measures, which is out now on Cheersquad Records and Tapes.
Desperate Measures is a hard, fast and catchy onslaught of hard-hitting Meanies mayhem. It evokes the classic sound that made the band a household name in all the worst houses back in the '90s, and which has influenced generation after generation of young punks ever since.
Joining The Meanies as they take their desperate measures are one such group of rowdies – the mighty DickLord, whose album IT'S SOOOO BORING is out now on Valve.  Monster Children have said of DickLord: "With songs about periods, shitty landlords and being fingered weird, there's something in DickLord's lyrics we can all relate to. Mix that in with splashes of Bad Brains and Black Flag references and you've got yourself a seriously good band."
Accompanying the tour announcement, and because it is their album tour after all, The Meanies have picked another radio single from Desperate Measures. "Sousa", the album's closing track, is bittersweet power pop punk with a couple of killer hooks, fat guitar and some perhaps deliberately obtuse lyrics from Linky that speak of a difficult time:  "When your waking world makes less sense than your dreams and the realities of the failed experiment slap you in the face like a cold fish you write a song like 'Sousa'; not really in the hope of making any sense of it all but more as a futile salve for what ails ya."
Starting out in '88, following on from the late '80s GOD/Bored scene and anticipated the subsequent successes of Spiderbait and Magic Dirt, the Meanies are genuine Melbourne icons and national treasures. Arriving at the same time as grunge, they defied the odds with a pop punk-meets-hardcore sound that pre-empted what was to come out of the US on labels like Epitaph and Fat Wreck Chords.  They became Triple J and Big Day Out faves (they did the BDO in 1992, 1993, 1994 and 1999!) and kings of the all-ages circuit, and they toured their arses off, playing with the likes of Nirvana, The Lemonheads, Redd Kross, Beastie Boys, Pearl Jam and Bad Brains along the way. They toured Europe, the US and Japan and retain an international following. And like their older and uglier brethren The Cosmic Psychos, The Meanies are now enjoying a late career revival, which begun with the release of their first album in 21 years, It's Not Me It's You in late 2015 on Poison City Records. Desperate Measures was released in July 2020. 

THE MEANIES 'BETTER LATE THAN NEVER DESPERATE MEASURES TOUR'WITH SPECIAL GUESTS DICKLORD 
FRI JUNE 18 – THE ZOO, Brisbanehttps://zoo.oztix.com.au/outlet/event/db1fadf2-2878-4a89-a5a1-c5945e939073
THUR JULY 1 – THE TOTE, Melbournehttps://tickets.oztix.com.au/outlet/event/ab9c024c-4b0e-47ae-82b2-ab2962c235f5
FRI JULY 2 – THE TOTE, Melbournehttps://tickets.oztix.com.au/outlet/event/b62b2c96-ac6c-40f4-a0e7-f0beb19483f0
SAT JULY 3 – JIVE, Adelaide – https://moshtix.com.au/v2/event/the-meanies/128680
WED JULY 7 – LA LA LA's, Wollongong –  https://moshtix.com.au/v2/event/the-meanies-w-dicklord/128628
THUR JULY 8 – LANSDOWNE, Sydneyhttps://moshtix.com.au/v2/event/the-meanies-better-late-than-never-album-tour-/128692?skin=thelansdowne
FRI JULY 9  – NARRABEEN RSL, Narrabeenhttps://kingdomsounds.oztix.com.au/outlet/event/1e98f77f-0c79-4785-a59a-7241aa2ac2aa
SAT JULY 10 – CAMBRIDGE HOTEL, Newcastlehttps://thecambridgehotel.oztix.com.au/outlet/event/d83b82d4-ecc0-4f50-ad6d-f7ff6a780c12
SUN JULY 11 – THE BASEMENT, Canberrahttps://tickets.oztix.com.au/outlet/event/b7670940-f045-4fb3-b579-b5aada11bf78
The Meanies' Desperate Measures is out now on Cheersquad Records & Tapes.http://www.themeanies.net/https://www.facebook.com/MeaniesAustralia/

DickLord Striving to keep up to that impeccable standard, DickLord play fast, Aussie punk rock with humour and a few angry stabs just to keep everyone confused and teetering on their toes. A band for everyone, DickLord will make you laugh and fire up simultaneously! Brace yourself for some wildness and expect your amazing hair to be ruined. And while you're at it take a peek into current releases single You Fingered Me Weird and extended double EP It's Soooo Boring.
"What the @#$% was that?! I felt like I had a coffee and then got punched in the face. Can I play Triangle in your band?" (top compliment from anonymous drunkard).
DickLord's debut double EP release…  IT'S SOOOO BORING out now on Valve.YouTube Channel:  https://www.youtube.com/channel/UCh0pU2KjsCv4c4xeZX4u19gFacebook:  https://www.facebook.com/DickLord-1713617612267120/Bandcamp: https://dicklord.bandcamp.com/Spotify: https://open.spotify.com/artist/5xC1GCFhUYlAV3bMmxl8qHInstagram:  @dicklord_dip https://www.instagram.com/dicklord_dip/41VALVE online store – https://www.valverecords.com.au/shop/