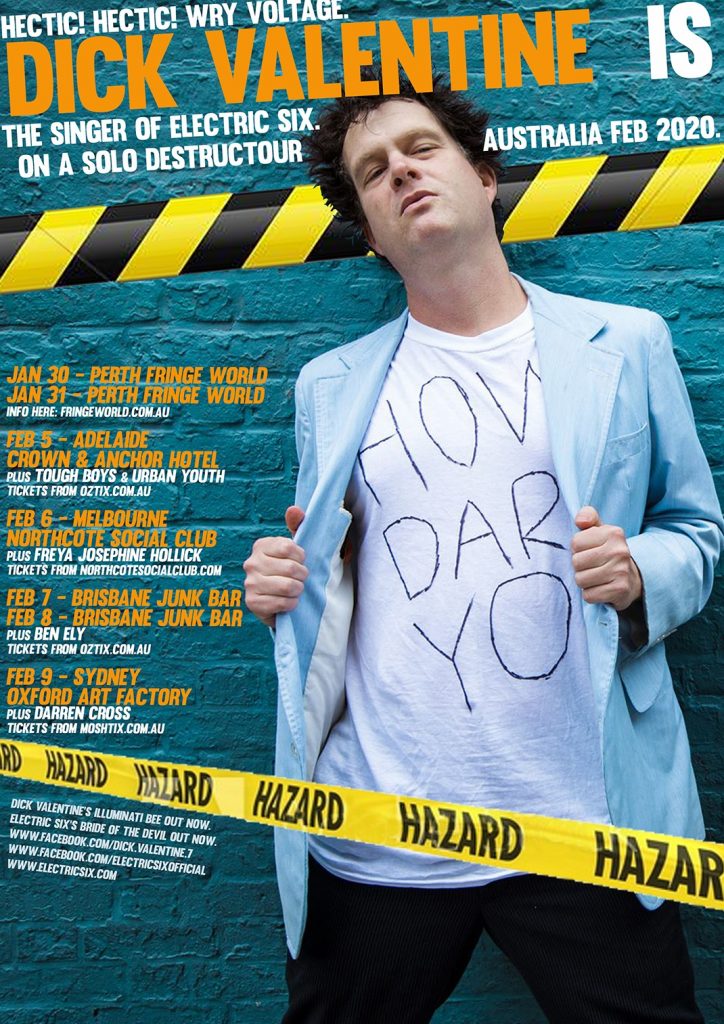 Hectic! Hectic! Wry voltage.
DICK VALENTINE IS THE SINGER OF ELECTRIC SIX.
And presents a solo destructour Australia FEB 2020.
And joining the Valentine is TOUGH BOYS and URBAN YOUTH in Adelaide; FREYA JOSEPHINE HOLLICK in Melbourne; BEN ELY in Brisbane; and finally DARREN CROSS in Sydney. All the score below.
Dick Valentine is the singer of Detroit's Electric Six, the rock and roll sleaze lords that produced the hits Danger! High Voltage and Gay Bar many years ago. Since those songs' release in 2003, Electric Six has consistently stayed on tour in North America and Europe and has not stopped releasing albums, having released it's 14th studio record Bride of the Devil within the last year.  While the band has not visited Australia since 2005, Dick Valentine is returning on his own as an acoustic troubadour in the year 2020….and Australia's collective hunger and yearning for Dick is about to be satiated.
Valentine's acoustic shows showcase his unique vocal delivery and audiences are often left in tears of ecstasy as they experience the emotional and personal side of this man they previously only knew as a low budget disco filth wrangler.  Valentine performs stripped down versions of Electric Six favorites as well as selections from all five of his solo albums, with the attention placed on his most recent offering Illuminati Bees which will be sold directly out Valentine's bag.
Drinks will be had, stories will be told, emotions will be mutated.  Dreams will take flight. You must not miss the triumphant return of Electric Six's Dick Valentine to Australia after a fifteen-year hiatus.  Drop everything and be at the Dick Valentine show in your town!  To miss out would be a crime against love itself.
DICK VALENTINE gives it to Australia 2020.
Solo destructour Australia FEB 2020.
Hectic! Hectic! Wry voltage.
JAN 30 – PERTH Fringe World
JAN 31 – PERTH Fringe World
Info here ringeworld.com.au
FEB 5 – ADELAIDE Crown & Anchor Hotel
plus guests TOUGH BOYS and URBAN YOUTH
Tickets from tickets.oztix.com.au
FEB 6 – MELBOURNE Northcote Social Club
plus guests FREYA JOSEPHINE HOLLICK
Tickets from northcotesocialclub.com
FEB 7 – BRISBANE Junk Bar
FEB 8 – BRISBANE Junk Bar 
plus guests BEN ELY
Tickets from thejunkbar.oztix.com.au
TOUGH BOYS
Drawn from the ashes of empires… or more likely Adelaide. This supersonic forced melody and majesty take to power rock and roll riffs with the hard overbite of electric glitz. Maxillary power so toughen up to it. 
https://www.facebook.com/toughboysofficial/
URBAN YOUTH
A three-piece indie-rock band from Adelaide, South Australia.Harkening back to the sound of 90's shoegaze and 80's post-punk, the trio have been able to craft a live sound that evokes fragility, power, and sincerity – all in equal measure. 
https://www.facebook.com/urbanyouthAU/
FREYA JOSEPHINE HOLLICK
After releasing her second full length album in August of 2018, through Blind Date Records, Australian singer songwriter, labelled one of 5 artists leading the new country renaissance by Double J (alongside Kacey Musgraves, Orville Peck, Yola and Colter Wall) Freya Josephine Hollick travelled to USA to record an album with Lucinda Williams' renowned band Buick 6 and guitarist Greg Leisz (known for his work with Beck, Eric Clapton, Aaron Neville, Sheryl Crow) Arriving in Joshua Tree at studio Rancho De La Luna, they recorded Hollick's third full length album, a record saturated in the sounds of desert rock and cosmic country, inspired by the likes of Ann Peebles, Allen Toussaint and Gene Clark.  
http://www.freyajosephinehollick.com
https://www.facebook.com/freya.hollick/
BEN ELY
Think Regurgitator… Pogogo Show… Pangaea and many other wild and wonderful explorations in sound and music including his latest project IT'S MAGNETIC with Jamie and Mia from The Junk Bar – new album coming out around March along with another new collaboration presently finding its way within the grassy undergrowth. Ben will turn up in some shape or form each night at the Junk Bar – be surprised.  
https://benely.bandcamp.com
https://www.facebook.com/benzahbo/
DARREN CROSS
Known for his work with Electronic Rock act Gerling and more recently Folk Gothers Jep and Dep , Darren Cross has released three solo records both in France and here on his own label since Gerling left the building. Cross's most recent album (Under the moniker D.C Cross) called 'Ecstatic Racquet' is a totally instrumental folk guitar album with influences far raging from John Fahey, 60's English folk guitarists like Bert Jansch and Roy Harper to New age goddess Enya. Armed only with an acoustic guitar Cross will take a willing audience on an ethereal guitar journey-  equal parts Dark humour (some wish he never saw the Bill Hicks collection) and euphoric fingerpicking with the occasional folk song thrown in for good measure.  
https://darrencross.bandcamp.com/
https://www.facebook.com/DarrenCrossband/