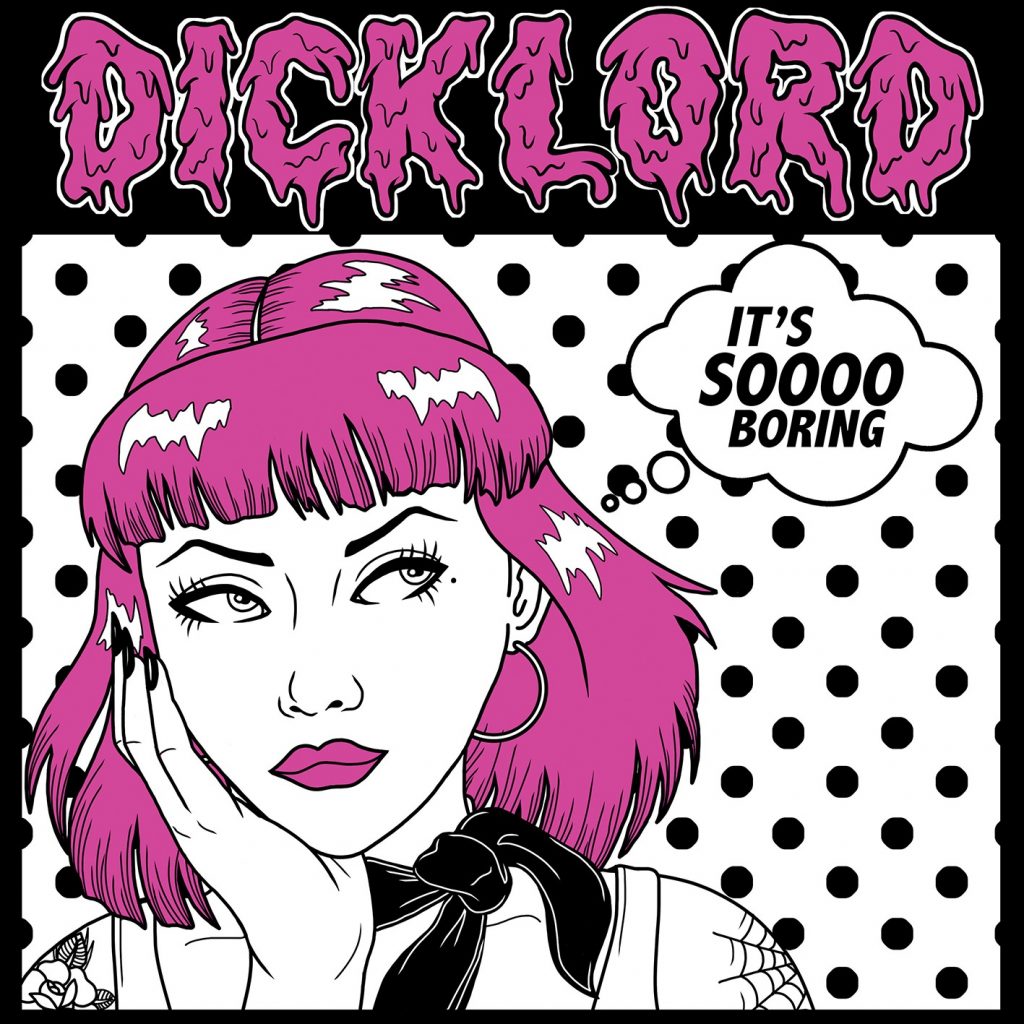 DICKLORD
rack it up for that debut album release…
IT'S SOOOO BORING
DickLord have decided to capture their obnoxious noises in a recorded thingo.
Don't let the title deceive you as this album is anything but boring. Only bored people get bored, so if you think its boring then YOU'RE BORING. Good.
This very Aussie 8 track record has 4 unreleased freshies on one side, our EP.  The B-Side is a mixture of our classics, full of our favourite things, such as choads, baking cakes, and telling people to get effed.
TRACK LISTING for those bored enough to care…
IT'S SOOOO BORING
On the A-side…
Boring
Moll On The Dole
Keyboard Warrior
Jerk Store
And on the B-Side…
C U Next Tuesday
Debra
Fake Cake
Knuckle Girls 
All recorded at the world famous Time Flew studios in Byron Bay.  
DickLord would like to thank Greg Jard, Johnny Trash, Crazy Phil Wilson, and Rose from Dead End Design. What a treat… 
DICKLORD
It's Soooo Boring
album out 20 MARCH 2020
on Valve thru MGM
PRE-ORDER the VINYL and CD right here now
www.valverecords.com.au/shop/
In the meantime if it all becomes too much to cope with… then head on down to the closest playing field and witness the full obnoxious noise live… and more of this type of stuff coming places soon.
FRI 28 FEB – GLOBE ALLEY, Melbourne 
with Bitch Diesel, Smooch and Tonic Riot
SAT 29 FEB – BARWON CLUB, Geelong 
with Bitter Sweet Kicks,  Two Headed Dog, Cosmic Kahuna, Smoke Witch, Dr Colossus and Grindhouse
Tickets here – barwonclub.oztix.com.au
SUN 1 MAR – STAY GOLD, Melbourne (Sydney Rd Street Party) 
with Dear Thieves, Garlic Nun, Anty!, Slim Jefferies and Mesa Cosa
FRI 20 MAR – SOL BAR, Maroochydore
with Not to Regret and Blussh
Tickets here – solbar.oztix.com.au
SAT 21 MAR – THE FOUNDRY, Brisbane 
with Glitoris and Mitch, Please.
Tickets here – thefoundry.oztix.com.au
Who'd a thought?
ONLINE SHIT & ALL…
YouTube Channel: 
Facebook: 
Bandcamp: 
Spotify: 
Instagram:  @dicklord_dip 
Photo below: Lachlan Douglas