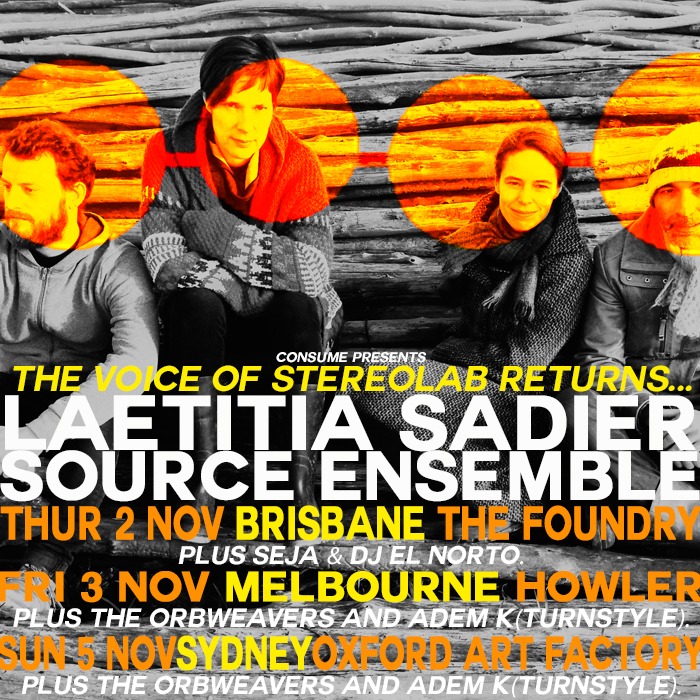 LAETITIA SADIER (Stereolab)
Finding thee… find shapes of thou.
The voice and co-instigator of the much loved STEREOLAB, last seen in these environs on the 2009 Laneway Festival, returns… the transpiral, lyrical sanguiness finally assembles this way à la mode configuration 'Laetitia Sadier Source Ensemble'. Following invitation from Melbourne's NGV to perform at the DIOR exhibition closing event further club dates upon thee in Brisbane, Melbourne and Sydney.
And now contiguous with Laetitia & co at these shows are Melbourne's THE ORBWEAVERS and Perth's ADEM K (Turnstyle) in Melbourne and Sydney; and beginning it all in Brisbane the quintessential SEJA.
Laetitia Sadier. whose work spans 25 years, formed Stereolab with Tim Gane in 1990, receiving critical acclaim for albums such as Transient Random Noise Bursts with Announcements (1993); Mars Audiac Quintet (1995); and Emperor Tomato Ketchup (1996). Other collaborations have included work with Blur, Luna, the High Llamas, Mouse on Mars and Tyler, the Creator. Sadier's first solo album The Trip was released in 2010, with albums Silencio and Something Shines following in 2012 and 2014 respectively. The latest – Laetitia Sadier Source Ensemble: Find Me Finding You' is out now on Drag City.
The Orbweavers, a band like no other – mesmerising, haunting and heartwarming have just released their long awaited third album Deep Leads an album about buried and hidden things. A follow up to their much acclaimed album Loom that spawned the indie hit "Spotswood" and took the band to Golden Plains, Port Fairy Folk Festival, Nannup, NGV, Melbourne Zoo and Bigsound among others as well as being commissioned to compose the soundtrack for ABC drama "The War that Changed Us".
Adem K… vocalist, songwriter and guitarist for Perth's reigning Casio-powered pop legends Turnstyle returns to the east coast for the first time in over a decade. His solo show consists of minimal arrangements of songs he wrote for Turnstyle and contemporary work with The Community Chest and more recently a skewed set of songs penned with former Lemonhead Nic Dalton. With a recording career spanning 22 years, Adem first received national recognition with Turnstyle 's Top 20 smash "Spray Water on the Stereo" in 1999 and since then has been steadily awarded and rewarded for sticking it out while his contemporaries have either retreated to the suburbs, formed tribute bands or taken up the banjo. As an obsessive Stereolab devotee (he produced a Turnstyle album with the drummer), he is beyond excited to be playing with Laetitia.
Brisbane's Seja's solo output is a synthesis of her musical lineage to date (Sekiden, Regurgitator), with future-pop production, blissful vocal harmonies and her trademark 80's synth sound. All our Wires… and more.
In such unified space… sounds of reflex form.
Consume presents
LAETITIA SADIER SOURCE ENSEMBLE
THUR 2 NOV brisbane THE FOUNDRY
plus SEJA & DJ EL NORTO
Tickets from https://thefoundry.net.au
FRI 3 NOV melbourne HOWLER
plus THE ORBWEAVERS and ADEM K (Turnstyle).
Tickets from http://h-w-l-r.com
SAT 4 NOV melbourne NGV DIOR closing night
Tickets from https://www.ngv.vic.gov.au/program/saturday-night-at-ngv-laetitia-sadier/
SUN 5 NOV sydney OXFORD ART FACTORY
plus THE ORBWEAVERS and ADEM K (Turnstyle).
Tickets from http://oxfordartfactory.com
LAETITIA SADIER SOURCE ENSEMBLE: Find Me Finding You' – out now on Drag City.
https://laetitiasadier.bandcamp.com/
https://www.facebook.com/LaetitiaSadierOfficial/
IMAGE: https://www.dropbox.com/s/ru07an4uamog3cg/LaetitiaSadierSourceEnsemble_byOlia_Eichenbaum_63.jpg?dl=0
VIDEOS:
THE WOMAN WITH THE INVISIBLE NECKLACE – https://youtu.be/qs0z_f3T8io
http://www.dragcity.com/artists/laetitia-sadier/videos/the-woman-with-the-invisible-necklace
SACRED PROJECT – https://youtu.be/9urh7D_xC7A
GALACTIC EMERGENCE – https://youtu.be/2UqoUGn5fqk
LOVE CAPTIVE – https://youtu.be/Ht_8ui78Yoc
THE ORBWEAVERS
http://www.facebook.com/TheOrbweavers
http://www.youtube.com/user/theorbweavers?feature=watch
ADEM K
https://thecommunitychest.bandcamp.com
https://www.facebook.com/TurnstyleTheBand
https://www.facebook.com/thecommunitychestband
SEJA
https://www.facebook.com/sejamusic
'Laetitia Sadier Source Ensemble: Find Me Finding You
Another New Year, and new shapes are forming — if only we are fortunate enough to notice them! As we spin through this world, we are witness to all manner of combinations unfolding before us — familiar arcs and breaking waves alike, upon all of which it is our choice, our chance and our challenge, to possibly ride. Find Me Finding You, the new album from the new organization called the Laetitia Sadier Source Ensemble, manages to strike new chords while touching familiar keys in the song of life.
From its percolating opening beat, Find Me Finding You locates new systems within the sound-universe of Laetitia Sadier. This in itself isn't a surprise — Laetitia has relentlessly followed her music through different dynamics and into a variety of dimensions over the course of four solo albums since 2010 (not to forget her three albums with Monade and the long era of Stereolab) — but the nature of the construction here stands distinctly apart from her recent albums. Laetitia was inspired by a mind's-eye envisaging of geometric forms and their possible permutations. As she sought to replicate the shapes in music, this guided the process of assembly for the album.
Part of the freshness of Find Me Finding You comes from working and playing within the Source Ensemble and exploring new sound combinations via a set of youthful and evolving musical relationships. Laetitia recognized the energy of the tracks in their initial form, and sought to preserve their vitality by not retaking too many performances — instead, the rawness in the tracks was retained and refined at the mixing stage, maintaining an edge throughout. When we hear synth lines diving, lifting and drifting, unusual guitar textures, the plucked sound of flat wound bass strings or the bottomless pulsing of bass pedals stepping out of the mix with an exquisite vibrancy, this is the sound of the Source Ensemble.
A key to Laetitia's music is her use of vocal arrangements. Throughout Finding Me Finding You, the shifting accompaniment creates space to bring this element gloriously forward. Arranged by Laetitia with Joe Watson and Jeff Parker making string charts that were subsequently transposed to vocal parts for several songs, richly arranged choirs of voices provide depth along with the thrilling presence of extra breath in the sound. Laetitia's community-politic is well-served by the groups of voices lending support to the machining of the song craft, providing additional uplift to her quintessentially forward-facing viewpoint — as well as massed voices from three different countries sharing space in harmony!
Working in collaboration is Laetita's traditions, and a key to this album's view on being free together (it is necessary, preferable and right!). The designation of Source Collective implies a new togetherness phase; alongside long-time collaborators Emmanuel Mario and Xavi Munoz, keyboard and flutes parts played by David Thayer (Little Tornados) were essential contributions, as well as further keys, synths and electronics from Phil M FU and several intense guitar sequences from Mason le Long. Chris A Cummings (aka Marker Starling, Laetitia's favorite composer) graciously wrote "Deep Background" for her. The duet with Hot Chip's Alexis Taylor on "Love Captive" (not to mention Rob Mazurek's distinctive coronet playing!) gives voice to an ideological cornerstone of Find Me Finding You — that, should we be responsible enough to endeavor into a world of basic incomes and open relationships, we would make astonishing strides as a society. These sorts of things can only be done in agreement with others.
Expressing great compassion and expectation with startling immediacy, as well as an abiding belief in an underlying unity that permeates and intimately binds all things and beings, Find Me Finding You combines a rigorous process for music-making with a deeply invested mindset, making captivating music that promises many stimulating spins to come!
http://www.dragcity.com/artists/laetitia-sadier