OFF! …are very much on.
After 10 years passed they are bringing the Free LSD back to Australia this January 2024.
TOURism and Consume presents
OFF! is on.
Australia 2024
plus special guests
Tickets on sale THURSDAY
WED 10 JAN – perth ROSEMOUNT
Doors 7.00pm. Tickets at https://rosemounthotel.oztix.com.au/outlet/event/e4f6a236-9aea-4ab4-af8f-ab72ab8863fa
FRI 12 JAN – adelaide GOV
Doors 7.30pm. Tickets at https://thegovfb.oztix.com.au/outlet/event/538a804f-6ecb-4440-942b-c97853f18619
SAT 13 JAN – hobart REPUBLIC
Doors 9.00pm. Tickets at https://moshtix.com.au/v2/event/off-is-on-australia-2024-plus-guests/155699
SUN 14 JAN – melbourne THE CORNER
Doors 7.30pm. Tickets at https://tickets.cornerhotel.com/outlet/event/c04b6e23-7081-4786-a21d-45dad71e7624
WED 17 JAN – canberra BASEMENT
Doors 7.00pm. Tickets at https://tickets.oztix.com.au/outlet/event/2f2a2d12-b4d2-4d22-a180-29f2c46c8da8
FRI 19 JAN – sydney METRO
Doors 7.30pm. Tickets at https://premier.ticketek.com.au/shows/show.aspx?sh=OFF24 
SAT 20 JAN – brisbane PRINCESS
Doors 7.30pm. Tickets at https://www.ticketmaster.com.au/event/25005F25CC192507
SUN 21 JAN – gold coast VINNIE'S DIVE BAR
Doors 7.30pm. Tickets at  https://vinniesdive.oztix.com.au/outlet/event/7bd0ea2e-1945-4db2-973b-44aa189de4e4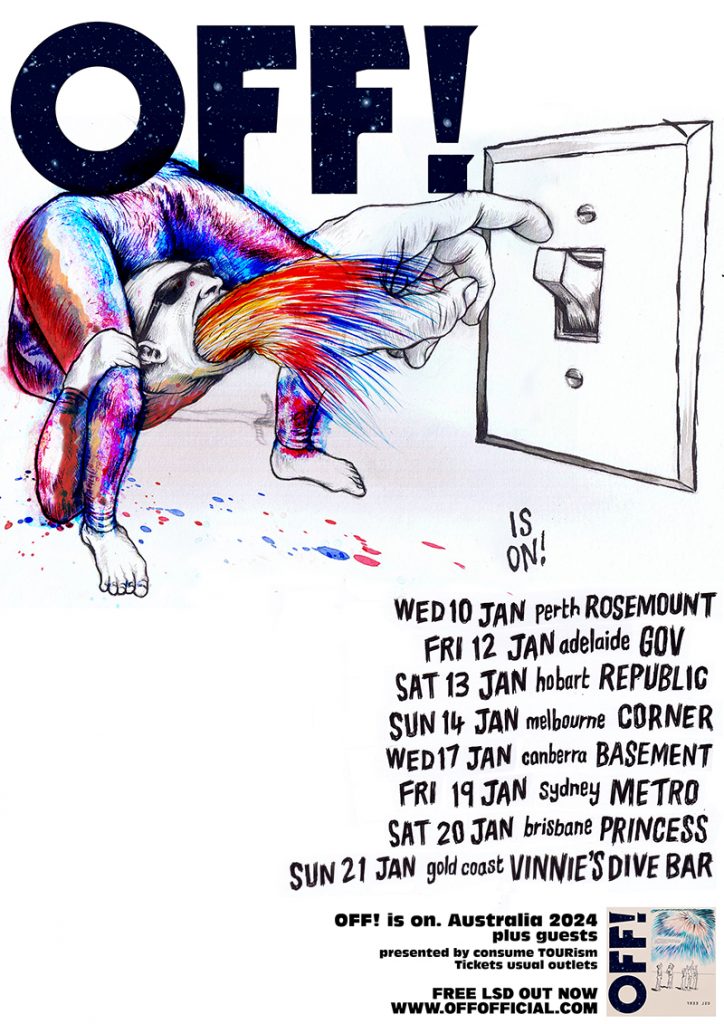 OFF!'s first new album in eight years translates the work of an alien race attempting to rebuild the remains of your destroyed record collection. Free LSD hits reset like The Beatles conjuring Revolver, The Walker Brothers Nite Flights refusal to be a reunion record, or that album by Baby Huey where every influence merges so effortlessly that it is simply one sound unified. Like the first 3 records, the raging two-minute bonfires that make up Free LSD were written by the core of the band, Keith Morris & Dimitri Coats.
The album introduces new members, drummer Justin Brown (Thundercat, Flying Lotus, Herbie Hancock) and bassist Autry Fulbright II (…And You Will Know Us by the Trail of Dead), who push the idea of punk into another dimension. Coats blankets a number of these tracks with layers of electronics and Morris sounds timeless.
OFF! have never sounded better. BETTER. Sure, there are some Black Flag/Circle Jerks Morris ghosts in here, Burning Brides riffs, Thundercat calisthenics, and Trail of Dead burns, but that is just the skin of the thing. "War Above Los Angeles" is the cornerstone of the record, carrying all of the scars of where the band was before, along with otherworldly interplay by a group with phasers now set for stun. That is not to say the no nonsense 90 second furnace blasts aren't in full effect on tracks like "Kill To Be Heard," but as one of the architects of punk rock, singer Keith Morris says, "After making music for as long as I have, it was time to use a palette that includes lime green, turquoise, and magenta instead of the typical colors and shades that were involved in all of the other break neck and car chase scenarios. Miles Davis with Herbie Hancock and the Headhunters as opposed to Milo Goes to College."
The band is working on a film to accompany the record. Coats explains, "Since thinking of the album as a soundtrack to a weird sci-fi movie gave us permission to experiment, and the film explains, in a fantastical way, the creation of the album, they both go hand in hand as an overall art project." Free LSD is a build of subterranean howl that lifts off into the cosmos of Sun Ra and labelmates, The Stooges. OFF! is supercharged for takeoff in what has now been confirmed as humanity's new year zero.
https://www.offofficial.com/
https://offofficial.bandcamp.com/album/free-lsd
FREE LSD out now on Fat Possum.
Order/Stream Free LSD on LP, CD, Cassette, and Digital: https://OffBand.lnk.to/FreeLSD 
VIDS are here!
KEEP YOUR MOUTH SHUT https://youtu.be/_jlaK600wH4?si=0dc_q-pG4B1gtoAL
TIME WILL COME https://youtu.be/lbyCsyz6wOY?si=9zsU0GYFwYLuF4M4
KILL TO BE HEARD https://youtu.be/I613dabsscU?si=3DUz2T_iaz4KyHKF
WAR ABOVE LOS ANGELES https://youtu.be/LBWUgluGdTw?si=PIhzND9N6Lwizt23
All footage taken from the feature film, Free LSD: https://www.freelsdmovie.com