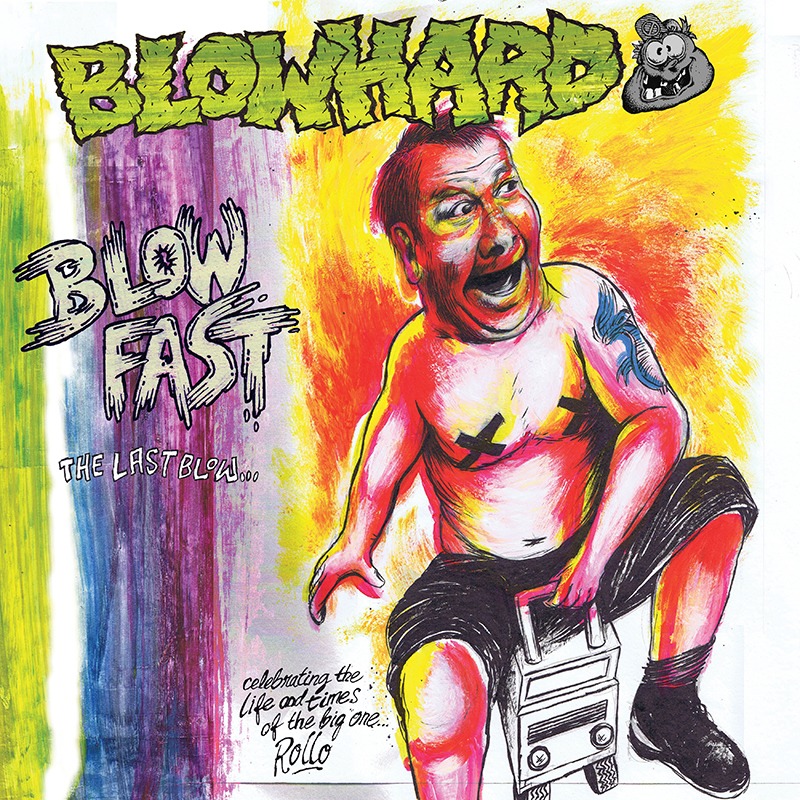 On the eve of the upcoming final performance of BLOWHARD in celebrating the life and times of the big one – ROLLO – at Blow Fast …the last blow this SAT 17 APRIL at THE TIVOLI, Fortitude Valley comes news of a special best of VINYL compilation: BLOW FAST!
OLD SCHOOL PUNKERS RETURN TO VINYL ROOTS "Brisbane punkers Blowhard are set to release a vinyl retrospective of their 32-year career. Titled "Blow Fast…The Last Blow", the album will be available on well-established local independent label Valve from [insert release date]. The compilation will contain a hand-picked selection of tracks spanning all eras of Blowhard's larger-than-life history, starting with songs from the band's early 7-inch vinyl EPs and moving chronologically through cuts from subsequent releases. The band will mark the second anniversary of the untimely passing of founder and leader Rollo with a final show at The Tivoli on Saturday 17 April. Gig-goers will be able to pre-order copies of "Blow Fast…" on the night, and online orders are open now via the Valve."
BLOWHARD released three albums Blowin' Off (1993), Hornbag (1996) and The Toxic Swing (2009) along with the compilation album Five Minute Ride Through Hell, as well as countless singles and EPs released via Rollo's own record label, Splurt Records. Rollo led Blowhard for 30 years, and given his and the band's collective history in other punk/alternative outfits, is a momentous achievement. Blowhard was also the third ever Brisbane punk band (after The Saints and The Onyas) to tour overseas. Additionally, Rollo's activities as a concert promoter, Splurt record label champ, 4ZZZ radio personality, and an all-round ceaseless supporter of the local DIY music world, truly cement his legacy across the Brisbane music scene and beyond.
www.facebook.com/blowhardpunkwww.splurtrecords.com.au
BLOWHARD
Blow Fast …the last blow (V165)
Available for VINYL pre-order now: www.valverecords.com.au
Any pre-orders will immediately be provided with a digital download.
AND AVAILABLE TO PRE-ORDER AT SATURDAY'S BLOW FAST SHOW!
DIGITAL RELEASE this SAT 17 APRIL from all approved outlets: FFM link ffm.to/blowfastthelastblow
side BLOW:You're Too Cool
Come On In, The Beer's Fine
V8 Rock n Roll
Fat Juicy Cop
What You Say
Pirate Song

side HARD:
I'm Broke (live)
I'll Polka Your Eyes Out
Shutter Down
Big One
Tweedle Dee
Maggot
Milton Mango

4ZZZ, Splurt, Punkfest, GBH & consume presents
BLOWHARD & FRIENDS
celebrating the life and times of ROLLO
THE TIVOLI
SAT 17 APRIL 2021
Doors at 5.00pm to midnight!
Tickets are SOLD OUT!!!
featuring…
FAT,  FLANGIPANIS, BLOWHARD,
SHANDY, STRANGE STAINS, EMMA BOSWORTH, and THE FRED BAND.