A MASSIVE OUTDOOR HOMETOWN CELEBRATION OF ICONIC 1997 ALBUM UNIT
JOINED BY A STELLAR BRISBANE-CENTRIC LINEUP OF FRIENDS
EARLY BIRD TICKET SIGN UP HERE linktr.ee/regurgitator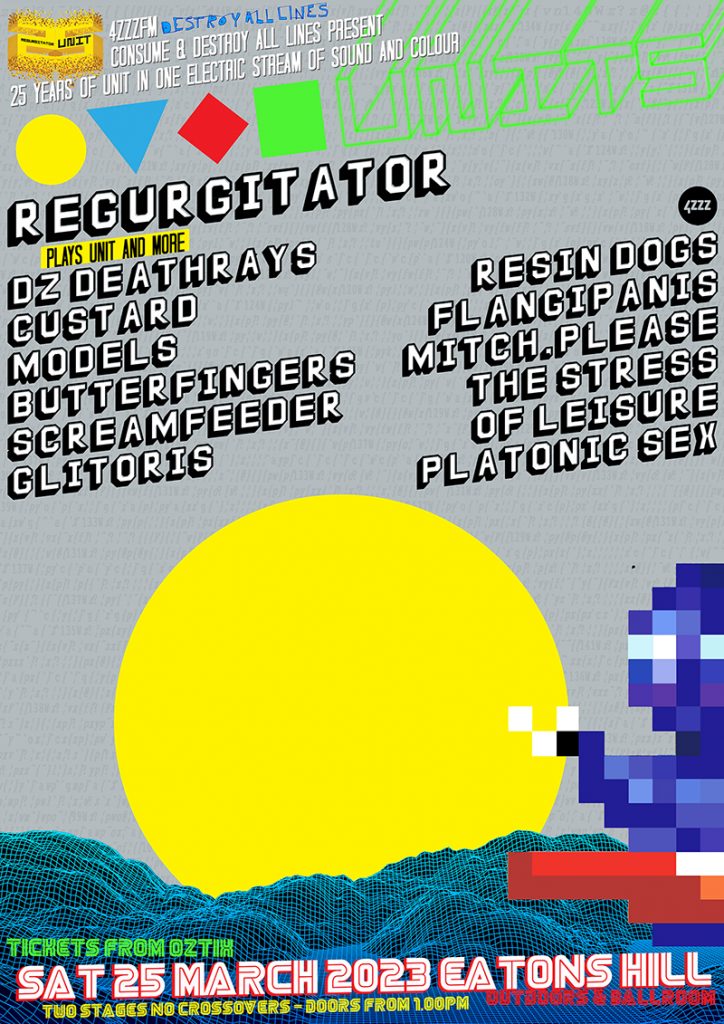 UNITS. Code for rhymes. Products of time.
The UNIT hit the quarter century yardstick in November 2022.
Warner released a 25th anniversary gatefold coloured vinyl and deluxe digital edition to mark this point.
Now let's take this interface live. The pixel's gonna shine one more time!
There just is. The parameters come defined by a myriad vista of zeros and ones… on and off… decisions and choices – some more than others. The input activated signals all hail the storm of pixelations that cascade across dream screens flash washing our minds with saturated sound and colour. The pixel rains supreme like a solar fractal fragmenting the silver streams we skim our daily way through… building blocks to chain the virtuality and crave a mass of neon ear worms infest shifting plates of the seismic psyche. Just go with it. We are all units.
In a world stood prone before portals comes a veritable electric stream of bits – 25 years of UNIT in one moment of sound and colour. Music is waves.
Regurgitator announce UNITS, a Regurgitator-curated hometown carnival of music, in celebration of their iconic 1997 album UNIT, which will be played in full, in all its pixelated density, along with an extended set of hits next month in Brisbane/Meanjin.
Regurgitator will be joined by a plethora of dynamic Brisbane-centric musical cohorts featuring DZ Deathrays, Custard, Butterfingers, Resin Dogs, and Screamfeeder, along with Models and more, taking place across two stages with no crossovers! The pixel's gonna shine one more time at Eaton's Hill Outdoors & Ballroom on Saturday, March 25th.
4ZZZ, CONSUME AND DESTROY ALL LINES PRESENT
UNITS – 25 YEARS OF UNIT IN ONE ELECTRIC STREAM OF SOUND AND COLOUR
SAT 25 MARCH – EATONS HILL OUTDOORS & BALLROOM
18+DOORS 1PM 'TIL LATE
REGURGITATOR PERFORMING UNIT IN FULL + MORE
DZ DEATHRAYS
CUSTARD
MODELS
BUTTERFINGERS
SCREAMFEEDER
RESIN DOGS
FLANGIPANIS
GLITORIS
MITCH, PLEASE
THE STRESS OF LEISURE
PLATONIC SEX
EARLY BIRD PRE-SALE: THURSDAY, 9TH FEB – 9AM LOCAL TIME
PRE SALE SIGN UP https://mailchi.mp/7105cc7606f3/units2023

GENERAL TICKETS ON SALE: FRIDAY, 10TH FEB – 9AM LOCAL TIME
TICKETS VIA OZTIX https://tickets.oztix.com.au/outlet/event/3cf71f22-23e3-4519-9079-0993b28d569e


Welcome to the pixelrise…
Warner's 25th edition of UNIT is available now digital platforms – https://wma.lnk.to/Unit25thAnniversary
and limited edition vinyl – https://store.warnermusic.com.au/artists/regurgitator/unit-25th-anniversary-edition-egg-yolk-swirl-vinyl