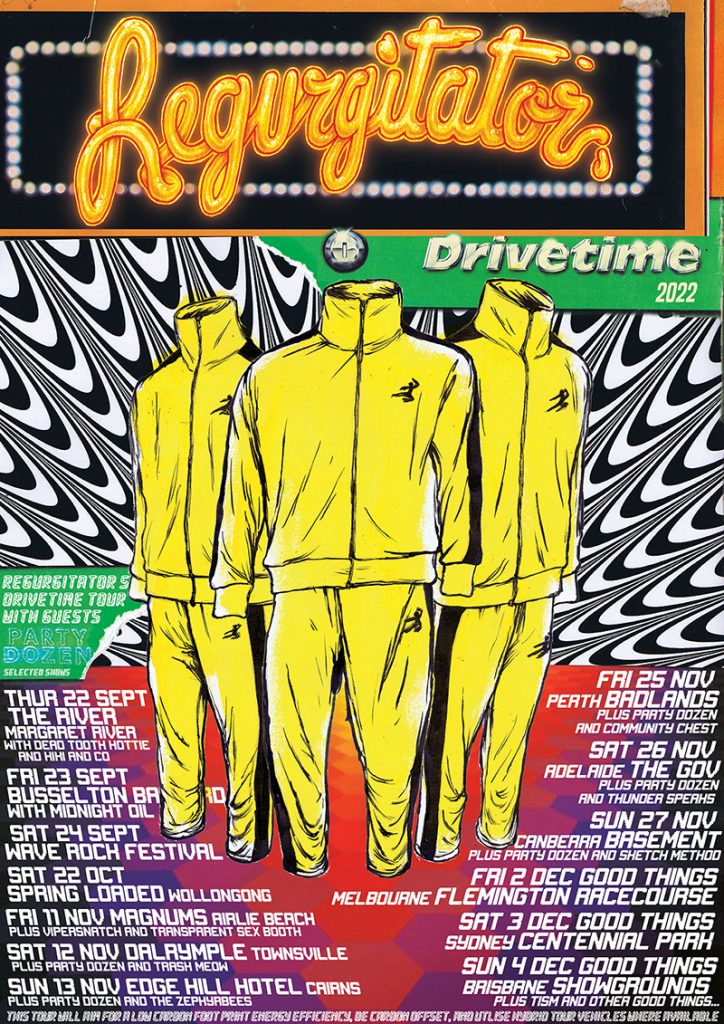 REGURGITATOR's Drivetime!
We is hybrid!
Formless, shapeless… like water.
Noumena musically ablaze with uncertainty and spontaneous pace.
Get your solenoids humming – we are takin' you to the road!
IT'S DRIVETIME!
Awaken to the morning zoo… enter that dragon with the forge of a propulsive cryptocrash.
Primetime optics glazed over with unrestricted drones of electric transformation.
Wide open road's concordant rush hour… crackin' the next level with clenched fists of furry.
From the recently announced east coast GOOD THINGS festival tour to WAVE ROCK on WA Noongar country… and that most coveted slot playing with luminaries MIDNIGHT OIL – now across country we torque the direct current!
Joining some of this drivin' reverie will be Sydney's PARTY DOZEN featuring Kirsty Tickle (saxophone) and Jonathan Boulet (percussion and sampler). Doom. Jazz. Hardcore. Psychedelic. No-wave. Industrial. Just the way we like it.
As UNIT draws toward the quarter mark there will be some special launch events for the illustrious Bloomsbury 33 1/3 Oceania series Regurgitator's UNIT as written by Brisbane's Lauren Istvandity & Lachlan Goold (Magoo) out on OCT 6 via Bloomsbury.
WARNER RECORDS will also be re-releasing the album 'Unit' for its 25th anniversary this November, with pre-orders for a gatefold multicolured vinyl pressing, along with an extended digital deluxe of the album launching September 16. The vinyl pre-order is available bundled with an exclusive T-shirt for Ausmusic Month, with a portion of proceeds benefitting Support Act.
Come along on…
REGURGITATOR's DRIVETIME! TOUR 2022
THUR 22 SEPT – THE RIVER Margaret River
with DEAD TOOTH HOTTIE and KIKI AND CO
Tickets from https://theriver.oztix.com.au/outlet/event/c8fb1499-4e73-454b-9af2-e64518ae3655

FRI 23 SEPT – BARNARD PARK Busselton
with MIDNIGHT OIL
Tickets from www.midnightoil.com

SAT 24 SEPT – WAVE ROCK FESTIVAL Wave Rock
with PARTY DOZEN and more…
Tickets & info from https://www.waverockweekender.com.au/the-22-line-up
FRI 21 OCT – NFSA Canberra – UNIT 25th for National Film & Sound Archive discussion
https://www.nfsa.gov.au/events/classic-australian-albums-unit-regurgitator
Classic Australian Albums: Unit by Regurgitator | National Film and Sound Archive of Australia – nfsa.gov.au With special guests Ben Ely, Quan Yeomans, Lachlan (Magoo) Goold and Paul Curtis + Book launch.
SAT 22 OCT – SPRING LOADED Wollongong
with TUMBLEWEED, GRINSPOON, YOU AM I and more…
Tickets & info from https://premier.ticketek.com.au/events/SPRINGLO21/venues/WNL/performances/EMIS2021911SL/tickets
FRI 11 NOV – MAGNUMS Airlie beach
plus VIPERSNATCH and TRANSPARENT SEX BOOTH
Tickets from https://www.magnumshotel.com.au/entertainment
SAT 12 NOV – DALRYMPLE Townsville
plus PARTY DOZEN and TRASH MEOW
Tickets from https://www.dalrymplehotel.com.au/entertainment
SUN 13 NOV – EDGE HILL HOTEL Cairns
plus PARTY DOZEN and THE ZEPHYRBEES
Tickets from https://www.edgehilltavern.com.au/entertainment
FRI 25 NOV – BADLANDS Perth
plus PARTY DOZEN and COMMUNITY CHEST
Tickets from https://badlandsbar.oztix.com.au/

SAT 26 NOV – THE GOV Adelaide
plus PARTY DOZEN and THUNDER SPEAKS
Tickets from https://thegov.oztix.com.au/outlet/event/e1af3e08-6f3c-4516-acfe-3626350446f5
SUN 27 NOV – THE BASEMENT Canberra
plus PARTY DOZEN and SKETCH METHOD
Tickets from https://tickets.oztix.com.au/outlet/event/0895e323-0e28-444d-a7cd-029aa0cec686
FRI 2 DEC GOOD THINGS Melbourne Flemington Racecourse
SAT 3 DEC GOOD THINGS Sydney Centennial Park
SUN 4 DEC GOOD THINGS Brisbane Brisbane Showgrounds
plus TISM and some other good things…
Tickets & info from https://www.goodthingsfestival.com.au/
This Drivetime tour will aim for a low carbon foot print energy efficiency, be carbon offset, and utlise hybrid tour vehicles where available.
SOCIAL RABBLE
http://regurgitator.bandcamp.com/
www.facebook.com/regurgitators
http://twitter.com/regurgitators
www.youtube.com/user/Regurgitators
https://www.instagram.com/regurgitators/
https://itunes.apple.com/au/artist/regurgitator/18222978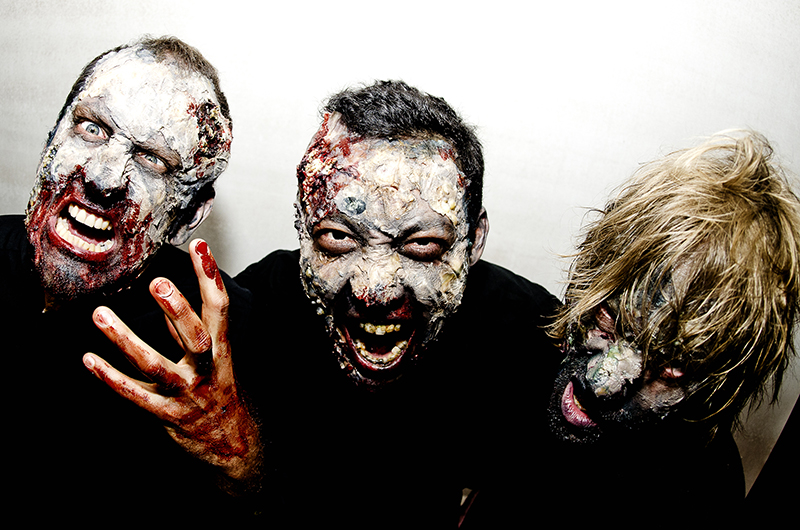 PARTY DOZEN are a 2-piece noise band from Sydney made up of Kirsty Tickle (saxophone) and Jonathan Boulet (percussion and sampler). Since forming in 2017, they have become renowned in Australia for their incendiary live shows, touring and playing with acts such as LIARS, Spiritualized and Viagra Boys. Exactly what Party Dozenare is completely up to the listener. Doom. Jazz. Hardcore. Psychedelic. No-wave. Industrial. Although largely instrumental, their sets are punctuated by Kirsty's unique "singing" style, screaming into the bell of her saxophone which itself goes through a bevy of effects pedals. Intensely independent in everything they do, the duo write, perform and record everything themselves and have released two acclaimed albums on their own label, GRUPO :The Living Man (2017) and Pray For Party Dozen (2020)… and latest body of work THE REAL WORK (2022)
https://party-dozen.bandcamp.com/
https://www.facebook.com/partydozen
https://www.instagram.com/partydozen/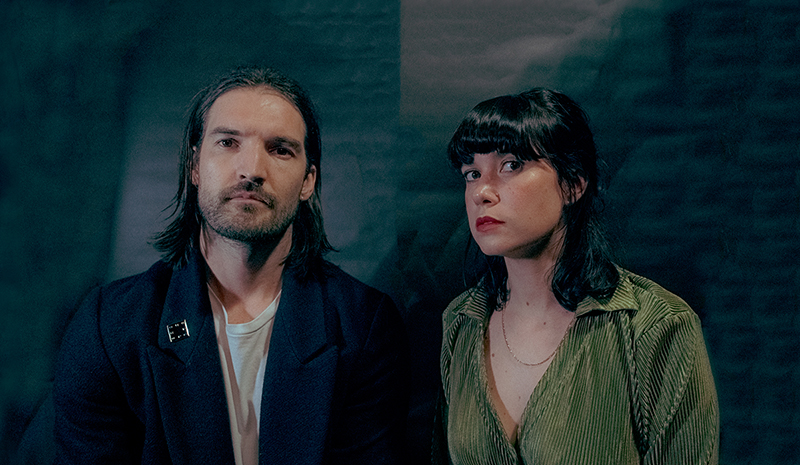 DEAD TOOTH HOTTIE (perth)
The lo-fi, contemporary new wave sounds of Dead Tooth Hottie appeared rather incongruously from the depths of ordinary suburbia in 2021. Because the world needed them, they produced 2 DIY, punk and groove singles called Receiving is Believing, and Situations. Never ones to shy away from suggestive lyrics and music videos that would make a French video store owner from 1986 blush, Igloo Records have taken on this immoral obligation and irresponsibility to release the 7" single Back in Time / Mall Grabbing. Expect consistent drum machine beats, eerie synths, hazy vocals, 80s Aus Rock – inspired guitar licks and a hard bassline holding it all down. Dead Tooth Hottie are Mark Tabone, Blair Pasco, and Marcy D'Souza. https://deadtoothhottie.bandcamp.com/
KIKI AND CO (margaret river)
A six piece band of misfits from Margs
It's a story and we want to bring you along but what is music.
https://www.facebook.com/kikiandcomusic
TRANSPARENT SEX BOOTH (north Qld)
Born out of the sweaty bowels of North Queensland summer are Transparent Sex Booth -a horny 3 piece arty-punk-noise concept band who most definitely got kicked out of music class. Described by their Mums as 'bloody idiots', Transparent Sex Booth's sound follows the punk ethos with a bit of yob-rock, and play songs about the 3 R's-rooting, rocking and rutting.
https://www.facebook.com/Transparent-Sex-Booth-108578888245455/
VIPERSNATCH (north Qld)
Vipersnatch is an original alt/rock/punk band hailing from Rockhampton Qld. Born out of lockdown, Vipersnatch evolved into a powerful 4 piece with haunting vocals, raw and solid guitar, agile expressive bass playing and dynamic visceral drumming. https://linktr.ee/ViperSnatch
TRASH MEOW (north Qld)
Kathy Cornwall heads Trash Meow with talented local musicians. Moody vocals are spliced among aspirations of grunge/rock with rising crescendos of sound. Be prepared to fall. https://trashmeow.bandcamp.com/releases
THE ZEPHYRBEES (north Qld)
The Zephyrbees and their ever-growing collection of groovy reggae-punk jams have people sticking like honey wherever they go. Straight outta Honeytown, Far North Queensland, the 'Bees combine a diverse range of sounds and genres to create a distinct ear-pleasing buzz that is entirely their own, with each member bringing a unique musical style to the Zephyrbees sound. Collaborating on their broad musical upbringings and backgrounds allows the 'Bees to keep fresh honey coming out of the hive. With influences stemming from all corners of the musical globe – from reggae and punk, to funk and hip-hop, just to name a few – its difficult to put these 'Bees in a box, and that's just the way they like it. http://thezephyrbees.wixsite.com/thezephyrbees
COMMUNITY CHEST (perth)
It's very rare that a visit to an attic wouldn't reap something once locked away for a time, coming to life again and having more relevance than it ever did. Uncluttered yet dense sounding synth-led indie rock. The Community Chest. Mostly middle aged brats with a rare knack of not reaching for the mandolin and going soft. Locked away for 18 months (oh it's a long, intense story) they are getting a dust off and re-joining the world for the only reason to re-join the world – accompanying their continent traversing compadres in Regurgitator. Having released three well received singles featuring members of Stereolab and Grandaddy, they are currently working on a mini album set for release in 2023.
https://www.facebook.com/thecommunitychestband/
THUNDER SPEAKS (adelaide)
Thunder Speaks is a twin bass electronic rock explosion from Adelaide. They've spent the first half of 2022 dropping singles 'The Drizzle' and 'Hawkmoth' and getting weird all over stages around town. Their debut album is due out this summer. https://linktr.ee/thunderspeaks
SKETCH METHOD (canberra)
Canberra's Sketch Method have been a fixture of the Australian punk scene for a number of years, touring extensively on the back of a string of well received singles, a full-length album, and their debut EP. The new single 'Panic At The Costco' is the beginning of a new chapter for the Canberra mainstays. The break-neck speed and lyrical precision of the track is a major statement from the band. The release will be supported with an impressive run of East Coast Tour Dates. Sketch Method released their debut album, 'Is it a bird? Who cares?' in 2018 and have since played and toured with the likes of Bodyjar, The Flatliners, Guitar Wolf, Pears, Get Dead and many others. The most recent release was the 2019 single 'Glady's' that took aim at the wicked witch of NSW and was followed by extensive touring including a tour of Indonesia. https://www.facebook.com/sketchmethod