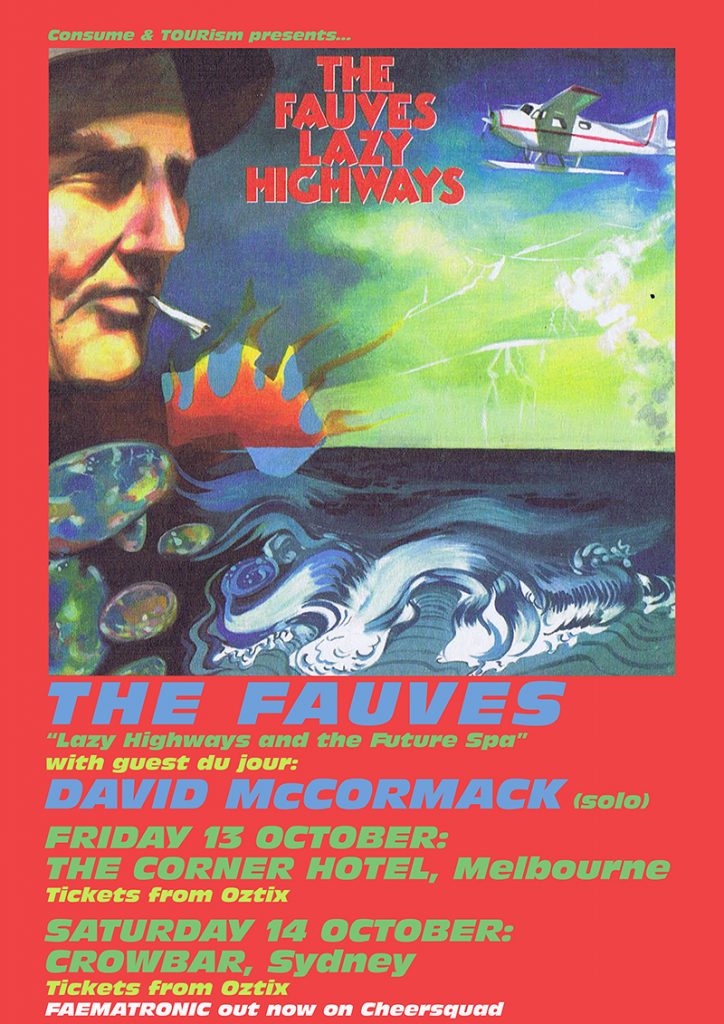 THE "TOO MANY THINGS TO MENTION IN THE ONE PRESS RELEASE" TOUR
LIMITED EDITION – TWO NIGHTS ONLY, MELBOURNE AND SYDNEY. ALL STOCK MUST GO
The Fauves are over-capitalised and seeking to divest assets. Stuff is going out on the nature strip; back catalogue is being sold out of the boots of cars. Cupboard space is required in which to store the inevitable unsold copies of the Fauves' 13th album, to be recorded in November. In this spirit, the band is offering two of its older children for sale: Future Spa and Lazy Highways, together, live in concert, free for the price of door entry. Remember, if you can't play nice in the back seat on long journeys, this is the result. This is about return on investment; earnings before interest, taxes, depreciation and amortisation; and shareholder value. There'll be some music played after the General Meeting too.
However, as 2023 is the Fauves' 35th anniversary, we need more to encourage an audience that:
a. Is dead
b. Is no longer interested
c. Was never interested
d. Is conceptually interested but otherwise engaged that evening.
Also featuring the inimitable DAVID McCORMACK ala the one and only CUSTARD front manna extraordinaire on solo accompaniment as special guest for this grand reinvention of our prime cultural objets d'art:
DMc is going to have a go at remembering a bunch of old songs as well as a few new ones, with just an acoustic guitar for company. Rest assured this will be a traumatic event for all concerned. Luckily The Fauves are headlining and should be able to save the night.
FAEMATRONIC – THE ALBUM THAT NEVER WAS
Over 30 years ago the Fauves drove up the Hume Highway to make their first album. Young, straight-backed and optimistic, raised to give up their seats for the elderly on public transport, they quickly fell in with the bohemian Sydney lifestyle.
They decided to call the record Faematronic, after the strange machine in the café down the road from their $50-a-night accommodation in Bondi. Steaming and billowing, it offered a drink altogether more intriguing than mum's Nescafe, ushering the outer suburban ingenues into a hyper-caffeinated world of late nights in the studio.
Handily equipped with the requisite levels of pretension and vaulting ambition to match their new surrounds, the band quickly recorded the album, equal parts art, rock and pop, wrought with dangerous bits of undergraduate learning; the progenitor of the doomed ArtRockPop movement.
Ultimately, financial exigencies saw the album split into two EPs, The Scissors Within and Tight White Ballhugger, released on that exciting new format, the compact disc – the way they'd be listening to music on Mars. Now released on vinyl by Cheersquad Records and Tapes for the first time as it was meant to be heard, Faematronic is an exciting archaeological discovery from one of Australia's greatest and most durable bands.
SO, TO SUMMARISE
It's two sets, the albums Future Spa and Lazy Highways in full, with Faematronic as an amuse bouche.
Two nights only:
Consume & TOURism presents…
THE FAUVES
play Lazy Highways and Future Spa plus Faematronic
With guest du jour David McCormack (solo)
FRIDAY 13 OCTOBER – THE CORNER HOTEL, Melbourne
Tickets from Oztix – https://tickets.cornerhotel.com/outlet/event/19d70ae4-500f-4400-a9e6-039c6011e436
SATURDAY 14 OCTOBER – CROWBAR, Sydney
Tickets from Oztix – https://crowbarsyd.oztix.com.au/outlet/event/930820e8-ebca-41eb-b3aa-490d3fc143db
TICKETS ONSALE 9am FRI 18 AUGUST
Please come. No really, please come. Is there anything else we can do to get you to come?
FAEMATRONIC out SEPT 1 on Cheersquad Records
LINKS
www.thefauves.com
thefauves2.bandcamp.com
https://www.facebook.com/groups/2507357076